Our newest Care Kit has a unique approach to reduce the stress and anxiety of hospice. It has materials for both the patient and the family. A Patient Guide with five goals helps them cope with self-care tasks and tie up all their loose ends. A Family Guide has five goals to educate the family and help them cope with grief. Practical tools facilitate home safety, patient communication, end-of-life decisions and grief. Includes useful items such as aroma therapy oils, stationary, photo album and other items to ease the patient's time in hospice. There is nothing like this in the market.
---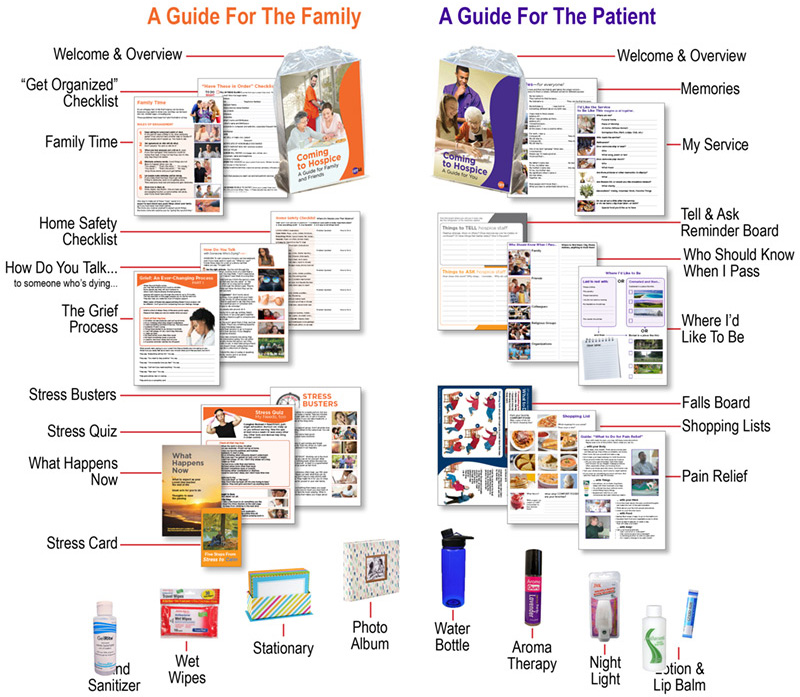 ---
For more information, call 1-877-CAREKIT or email us at info@carekit.com
Also available in Spanish
---
CARE KITS work for me!
"The Hospice Care Kit is wonderful! I love all the information that you have included in this kit."
– Hospice Administrator, Ohio
"I love the two-sided approach. Very unique! It really loops in the family with practical tools and helps everyone know what to expect during hospice."
– Owner, Hospice Agency