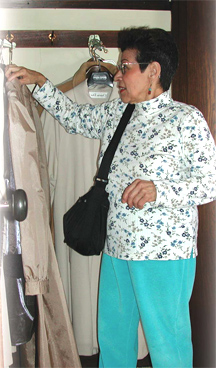 Adelia P. (44) lives in Corpus Christi, Texas. She earns her living in child care and has no medical insurance. Her primary care physician had told her she had Type 2 Diabetes. He had also told her repeatedly over a three-year period that if she did not get her blood sugar down, she would have eye problems and renal failure. "If you don't get this under control, you're going to lose a kidney," he warned on her last office visit.
But Adelia fretted that he gave her no instructions (that she recalls) about just how to "get this under control." As far as she remembers, he simply said to take her medicines. She knew her blood sugar was too high from the office test results, 300. A friend of her mother mailed her a Care Kit "Blood Sugar Control" kit. A Care Kit nurse on the telephone encouraged her to follow the steps in the kit and watch the effect on her blood sugar.
Adelia, despite her limited reading ability, followed the steps in the Care Kit and brought her reading down from 300 to 200 in a few weeks, as measured by her own glucose testing. This was the first time in three years that she had tested this low.
Encouraged, she continued the Care Kit program and tested just above 100 two months later (as much as 120 is normal).
The following month, her physician confirmed the reading in his office. Adelia and Care Kit alone had succeeded in managing her chronic condition.