Dementia Care and Management in one place. This Care Kit collects the wisdom of families who have struggled with their loved ones' decline. See here what they've learned about how to manage. You'll find the most practical tools and priorities, directly from families' experience, letting you achieve caregiving goals and minimizing the stress. Don't go it alone—listen to people who've learned the hard way!
---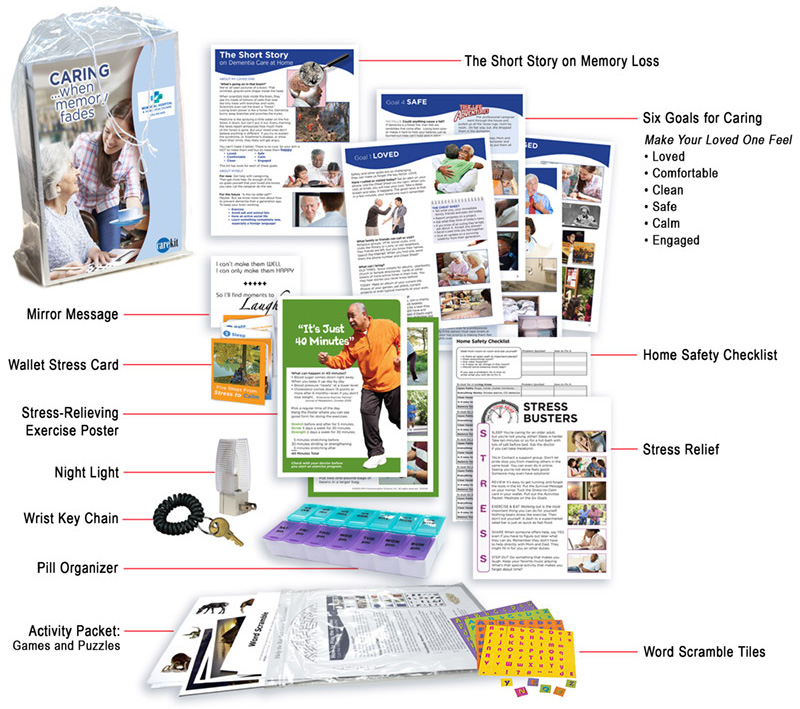 ---
For more information, call 1-877-CAREKIT or email us at info@carekit.com
Also available in Spanish
---
CARE KITS work for me!
"My sister and I were agonizing over how to take away Dad's car keys. The kit swept all that away with a simple solution that worked perfectly!"
"The family was focused on keeping Mom and Dad safe. The kit helped us streamline the tasks and get our priorities straight. They need most of all to know we love them."
"Other books and brochures tell you what it is, how many people have it and why you might get it, too. What they say to do is pretty obvious and too general to be useful. The Care Kit gets you right to work with steps and tools. And the funny little stories in the margins let you know you're not alone when your best-laid plans don't work. No other books get that practical!"