This Kit makes it easier to manage COPD. Chronic disease sufferers often feel guilty and depressed. So this COPD Care Kit gives uplifting support and reasons for living. Four goals organize all the self-care tasks and the included tools—like ear wraps, tube connectors and a pill organizer—help make it easier to manage. One grateful home health agency says, "The kits are tremendous in keeping our patients out of the hospital. Patients concur: "I don't forget a thing because of my Care Kit." Everything you need to manage COPD in one place.
---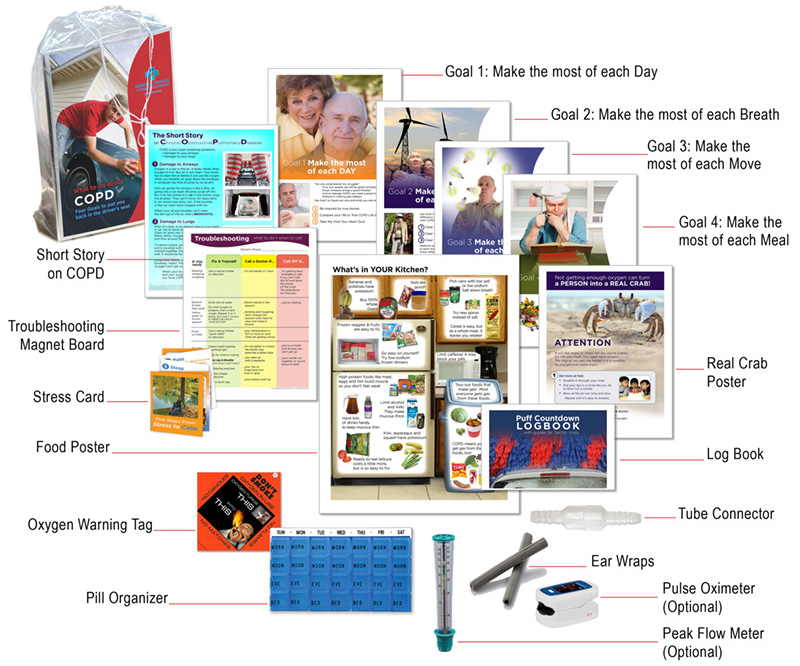 ---
For more information, call 1-877-CAREKIT or email us at info@carekit.com
| | |
| --- | --- |
| COPD Care Kit | #22060 |
| COPD with Peak Flow Meter Care Kit | #22160 |
Also available in Spanish
---
What's in the COPD Care Kit – Watch Now
CARE KITS work for me!
"The manner in which [the kits] are put together with Step by Step instructions on self care makes it quite simple for patients…put[ing] the necessary supplies in the patient's hand immediately is another benefit."
– Fern Lentini
VP, AMA Solutions
American Medical Association
"We use Care Kits because they make the work easy—We have skill in home forever."
– Nena Crisp
Administrator
OMNI Home Care
Panama City, Florida