A boost to recovery is having all the tools in one place—no more running from store to store or waiting for online deliveries. This Care Kit has everything you need for recovery after shoulder surgery, including a clinician vetted shoulder bar, exercise pulley and stretch bands. The instruction's large fonts and color photos are the best therapist assistants." When patients have clear reminders how to use their tools and stay on course, they're more likely to complete the self-care plan.
---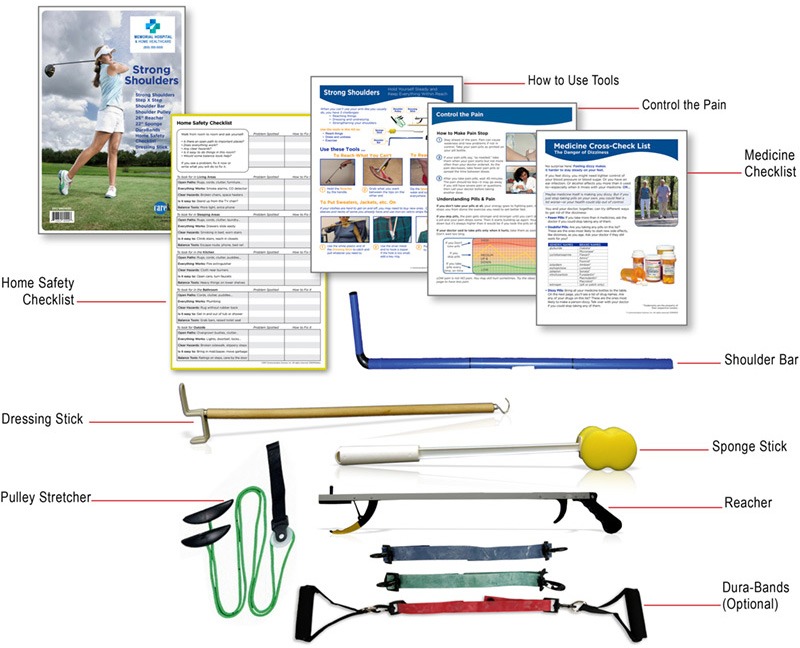 ---
For more information, call 1-877-CAREKIT or email us at info@carekit.com
Shoulder Rehabilitation Care Kit
Caution: Dura bands contain Natural Rubber which may cause Allergic Reactions. If you are allergic to latex, do not use.
#60400
Also available in Spanish
---
CARE KITS work for me!
"This is great! It's all together in one place, so we don't have to go running around town for things and managing a lot of miscellaneous inventory."
– Homecare Administrator
"I'm glad [my loved] one got this kit. I wish I would have had it when I came home from surgery. I would have been impressed with how professional the homecare agency was to have all the tools for me, all ready."
– Shoulder Surgery Patient