For blood sugar control, our care kit is a proven winner! At one teaching hospital, Care Kit users had 90% fewer readmissions than a group who attended diabetic education classes alone. "I finally get it!" said one user. "I had library books and listened to others, but only after I read this kit's Short Story did I understand how blood sugar works. With a Care Kit, no one has to run for a dictionary." They don't run looking for tools either. This kit has all the essential tools and ties them into 1 plan with 3 goals.
---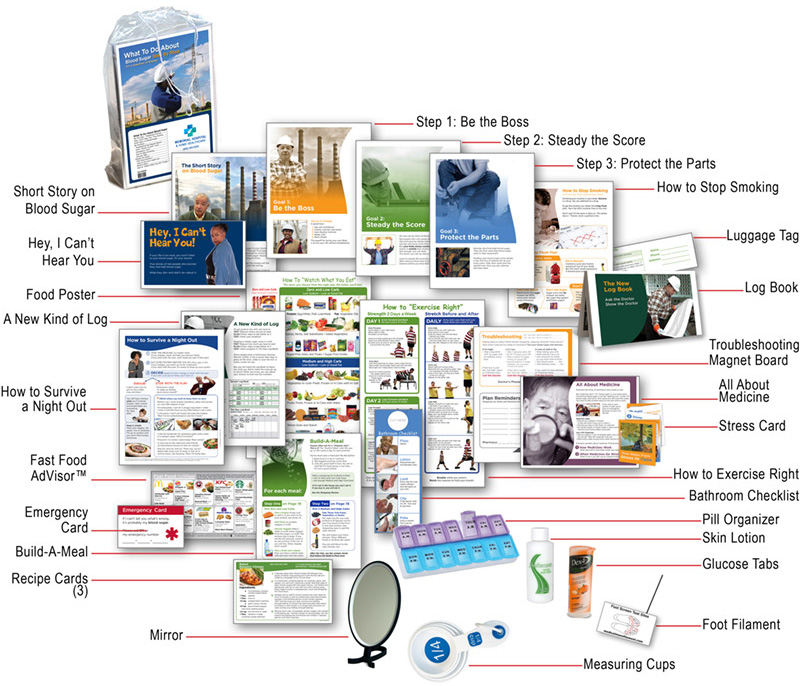 ---
For more information, call 1-877-CAREKIT or email us at info@carekit.com
| | |
| --- | --- |
| Blood Sugar Care Kit | #35550 |
| Blood Sugar Record Book Yearly Refill | #535019 |
Also available in Spanish
---
CARE KITS work for me!
"I don't have to guess, or keep a list of questions for the next trip to my physician. The Care Kit is now my go-to source for managing my diabetes."
– J.E. Phoenix, AZ
"The Care Kit gives me indispensible knowledge to understand and manage my blood sugar. I'd already read a couple of books and pamphlets on the subject; you tied all of those random bits of information into an understandable whole."